The Founders Didn't Believe in Democracy
Is it time to get more radical in countering their liberal, anti-democratic bias?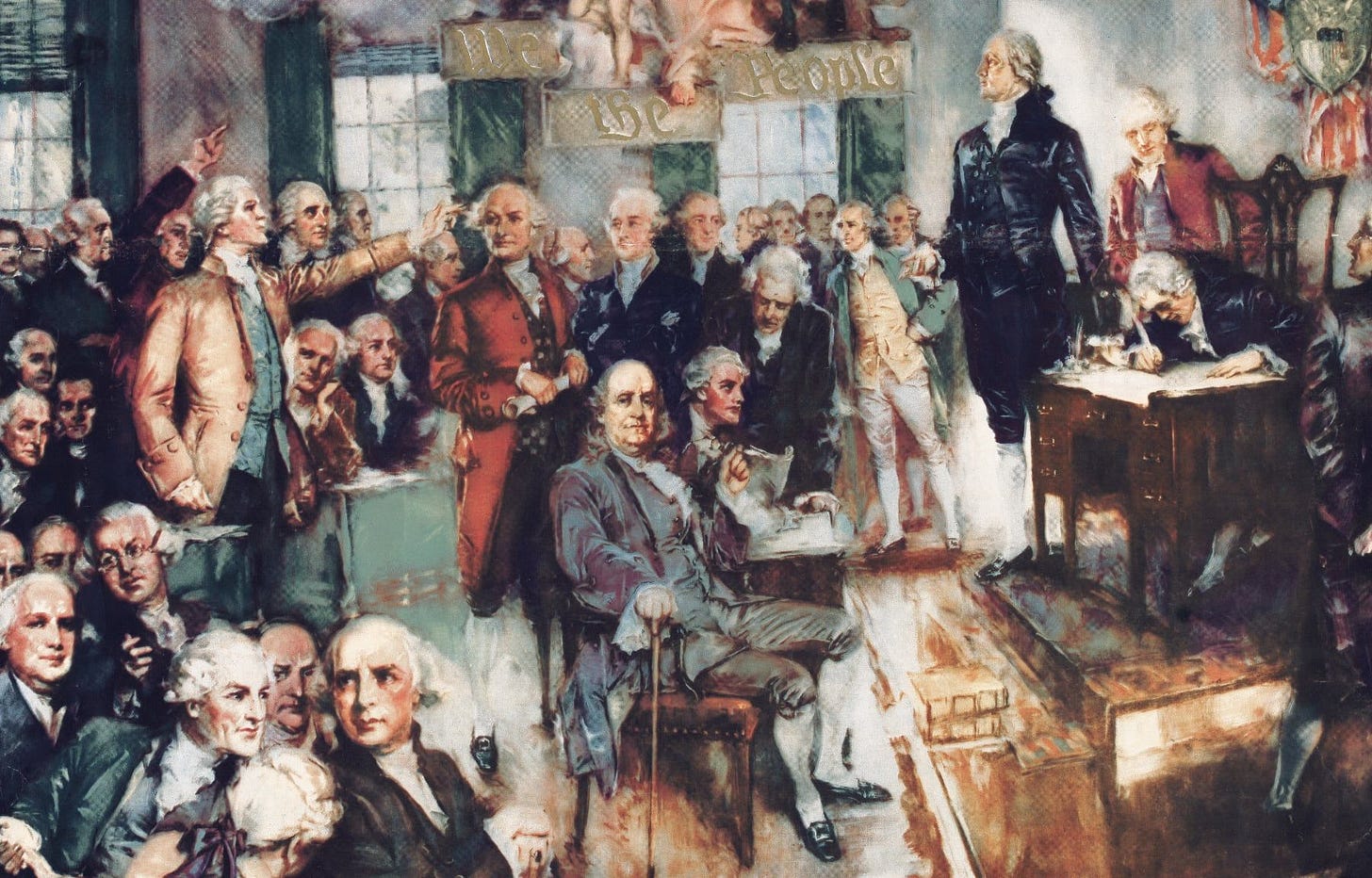 The founders didn't like democracy. Few things have received as much attention as this, at least with the benefit of hindsight. But it is still striking to be reminded of it. As John Adams put it in somewhat overwrought fashion, "There never was a democracy that did not commit suicide." I suppose he could still be proven right, although only committing suicide at the age of 235 would still be no small feat.
Democracies are "as short in their lives as they have been violent in their deaths" is how James Madison, the father of the Constitution, described it. It might seem odd today, but the founding fathers of a country that came to be associated with democracy feared it, suffering from a sort of "political agoraphobia"—fear of the man in the street. Instead, they believed in the rule of the best—the well-heeled and the wise, the best educated, the most competent, and those who possessed the gift of virtue. As Madison reasoned in the Federalist Papers: "The aim of every political constitution is or ought to be first to obtain for rulers, men who possess most wisdom to discern, and most virtue to pursue the common good of the society."
The founders understood that constitutional liberalism, which was about limiting and constraining the will of voters, was not quite the same as democracy—"the rule of the demos, the citizen body: the right of all to decide what are matters of general concern." Of course, the franchise, at the start of the American experiment, was already restricted considerably. Obviously, blacks and women could not vote. The majority of white males couldn't either, due to property requirements and poll taxes. Modern democracy, even in its most minimal form, requires the right to vote for all citizens. By this standard, the United States was not a democracy and would not become one for some time.
But even if the United States is a democracy now, it doesn't mean that we have escaped the legacy of the founders, including their desire—and the persistent desire of elites across time and place—to limit how much say ordinary citizens have.
Keep reading with a 7-day free trial
Subscribe to
Wisdom of Crowds
to keep reading this post and get 7 days of free access to the full post archives.